Or Coffee.. I prefer Latte's...
I made this for a really good friend of mine! Coffee Cat is the coffee house that she goes to, and I was talking to her the other day and she thought it would be cool to have a coffee mug with the logo on it. She was going to talk to the owner, who's a good friend of hers, to see if I may be able to sell them in her store! That would be awesome!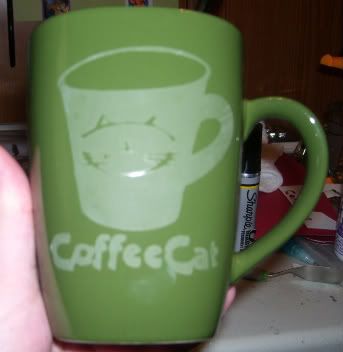 And here's a picture of it in "real" light.. to show the actual color of the mug!
Thanks to my friends at the
Sure Cuts A Lot Yahoo group
, for helping with turning a JPG into SVG!