This past weekened, I spent a few hours at the Bulbs to Blossom Sale, which was hosted by
Central Gardens of North Iowa
. Usually, I do the sales flyers for thier evenets, but this year I got my own "booth"! I will show close ups in the next post.
It went great! With in the 4 hours, I made $114. Not bad for my first time sellig! I see an Esty shop in the future.
Here are pictures of the other stuff that was there!
This booth was next to me. I guess they aren't really booths, just tables..
Three ladies made Garden Decorative Stones. They are also on the Tour of Homes in June.
These next to pictures are of the table across from me. This guy made amazing garden decor items, and they had a vintage look. The benches were made of wood and old headboards. What a great way to recycle and keep that stuff out of the landfil!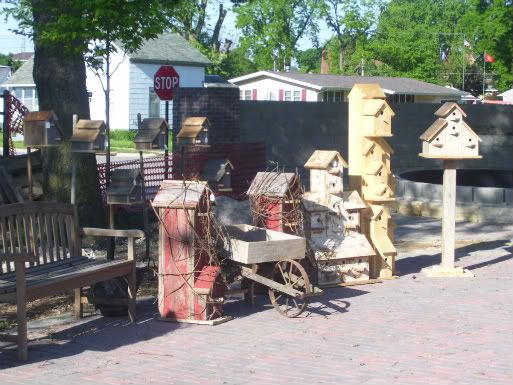 Here's a picture of the In Process Fountain.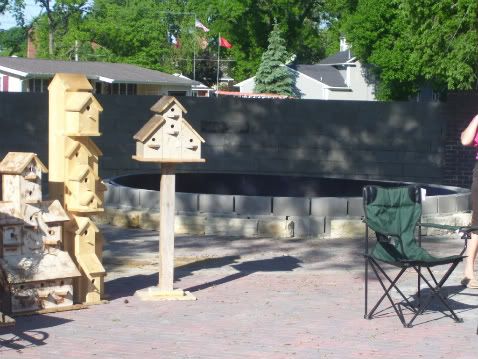 When it is done, they hope to have it be similar to the other fountain
Both fountains are donated by the same family. The one that is in process is in Clear Lake, Iowa. The one that is done, and has been for maybe 10 years now, is in Hutchinson Minnesota. The COOL thing about it!? I am from Hutchinson! I happened to have pictures of the fountain before they began construction and when they kept showing the family different options, they kept saying "no no, we want the same that is in Hutchinson." However, they didn't have any pictures of it. But I did, and so they were very happy that they can get the same design in both places!
And here is a picture of what was going on behind me. Those racks were FILLED with flowers.. and there was just a handful lef at the end!